What Brands Need to Know to Increase the Recovery of Compostable Packaging
November 28, 2023
Permitting for composting facilities is complex, but critical. The Composting Consortium breaks it down.
Over the last few years, demand for compostable packaging has grown quickly, as more brands explore alternatives to single-use conventional plastic. Whether in the form of a bowl, fork or a chip bag, compostable packaging is becoming more prevalent each year. At its best, compostable packaging could play an important role in reducing food and packaging waste by helping deliver food scraps within packaging to composting infrastructure, avoiding the greenhouse gases emitted if food were to end up in landfill.
But the reality is that the U.S. composting infrastructure in existence today was predominantly designed to process only yard trimmings––leaves, grass clippings and woody debris––because of a policy trend in the late 80s and early 90s that banned yard waste from landfill in dozens of states. As climate change mitigation and zero-waste goals have emerged, the composting industry is modernizing, diversifying feedstock inputs to include post-consumer food waste and certified compostable packaging. But it is only at the beginning stages of that transition.
The Composting Consortium, a multi-year collaboration across the entire compostable packaging value chain, has been studying composting infrastructure for several years. In the U.S., about 70% of the 200 full-scale composting facilities that process food waste also process some form of compostable packaging. Most of these facilities are located in urban areas. The rest of the over 2,500 composting facilities in the U.S. only process yard waste, meaning most Americans lack convenient options to compost food waste, including food-contact compostable packaging. Creating circular outcomes for compostable packaging hinges on scaling the recovery of food scraps, and brands, packaging manufacturers, industry groups, composters and investors all need to be involved.
What needs to happen so that compostable packaging doesn't end up as waste?
Several things need to be in place for compostable packaging to operate within a truly circular, waste-free system. Consumer education, supportive policy, and clear and consistent packaging design and labeling all play important roles––and recovery infrastructure is a critical piece to the puzzle.
When envisioning a future system where composting facilities accept not just yard waste, but also food scraps, and the compostable food packaging those scraps often arrive with, the first step is to consider what must be true for facilities to upgrade from yard waste-only composting infrastructure to also recover food.
Only when more food waste is recoverable at composting facilities will it be possible to also see more recovery of food-contact compostable packaging. This infrastructure upgrade is a key steppingstone to reducing packaging waste.
Why do permitting requirements matter?
While there is opportunity to upgrade existing yard trimmings composting facilities to recover food waste––and potentially, also food-contact compostable packaging––it is often difficult to get the necessary permits to do so. In many cases, yard trimmings-only composting facilities are permitted to compost only yard trimmings. To obtain a permit to also compost food waste and make all the necessary upgrades, these facilities would need to go through a lengthy and expensive permitting process.
The Composting Consortium and BioCycle evaluated each of the 50 states' permitting requirements across five factors to produce a "Composting Infrastructure Retrofit Score" that measures how easy or difficult upgrading existing yard trimmings-only composting facilities would be across different states.
The final Composting Infrastructure Retrofit Score looked across five factors:
Ease of permitting process: The difficulty of obtaining a permit to compost food waste in a particular state.
Presence of permitting tier: Whether a state has rules for composting facilities depending on how much and what types of food waste they accept. Some states have stricter rules for facilities that accept large amounts of food waste or food waste that may be contaminated with pathogens.
Cost to upgrade: The cost of upgrading a yard trimmings-only composting facility to process food waste.
Time needed to upgrade: The amount of time it takes to upgrade a yard trimmings-only composting facility to process food waste.
State food waste disposal ban: Whether a state has a ban or mandate that restricts disposal of food waste.
The findings uncovered a patchwork landscape of permitting conditions across the county as shown in BioCycle's heatmap below. New York state stood out among the 50 states as having a comparatively straightforward process to obtain permits required for infrastructure retrofit, while most states including South Carolina, Rhode Island and California make navigating permitting requirements significantly more costly and time-intensive.
Original Source: BioCycle
In many states, permitting requirements for food waste composting are one of the major factors standing between compostable packaging and the recovery pathways needed to ensure they are a circular alternative to single-use plastic packaging.
What role do brands play in navigating permitting requirements?
CPG brands have a unique opportunity to play a leading role in scaling up a more circular system for food-contact compostable packaging in the U.S.––by investing in recovery solutions for food-contact compostable packaging, advancing consumer education, designing packaging that is compatible with food waste composting infrastructure, and advocating for policies––like extended producer responsibility––that can support the development of food waste composting infrastructure.
To advance the necessary upgrades to composting facilities, brands can be supportive of efforts of composting industry groups like the US Composting Council, who advocates for standardized state regulations for composting. Permitting requirements are a determining factor in creating more opportunities for compostable packaging circularity and navigating them requires the engagement of stakeholders across the value chain.
In 2024 and 2025, the Composting Consortium will continue to connect the dots and work with the compost industry, policymakers, and packaging manufacturers and brands to lower the barriers to scaling food-waste composting infrastructure and unlock value to all stakeholders across the composting value chain. Through this unprecedented collaborative work, the Composting Consortium aims to build a more circular composting system, one that drives values to all stakeholders.
Learn more about the work the Consortium is doing to scale circular outcomes for compostable packaging.
About the Composting Consortium
The Composting Consortium is a multi-year collaboration to pilot industry-wide solutions and build a roadmap for investment in technologies and infrastructure that enable the recovery of compostable food packaging and food scraps. The Composting Consortium is managed by Closed Loop Partners' Center for the Circular Economy. PepsiCo and the NextGen Consortium are founding partners of the Consortium. Hill's Pet Nutrition parent company Colgate-Palmolive, Danaher Foundation, Eastman, The Kraft Heinz Company, Mars, Incorporated, and Target Corporation joined as supporting partners, and the Biodegradable Products Institute, the US Composting Council and the U.S. Plastics Pact joined as industry partners. Our advisory partners include 5 Gyres, Foodservice Packaging Institute (FPI), Google, ReFED, Compost Research and Education Foundation (CREF), the Sustainable Packaging Coalition (SPC), TIPA, University College London (UCL), Western Michigan University (WMU), University of Wisconsin-Stevens Point, and World Wildlife Fund (WWF). Learn more about the Consortium at closedlooppartners.com/composting-consortium/
Why We Invested in Found Energy: The Importance of Circular Energy Solutions
November 27, 2023
At Closed Loop Partners, we focus on investing in the circular economy––advancing solutions that reduce waste through material reduction, alternative materials, reuse and end-of-life solutions like recycling. 
Through our work, we help reduce the 45% of all emissions derived from the way we make and use products––and where relevant to materials management, we also address the 55% of emissions that are tied to energy production.
Our most recent investment through the Closed Loop Ventures Group in Boston-based company Found Energy embodies this crossover between energy production and materials management. Found Energy upcycles contaminated aluminum into clean hydrogen fuel, while also returning the aluminum to its pre-processing state, creating a fully circular loop for the material. By treating aluminum scrap with a catalyst and then activating it with water, Found Energy creates 1) energy in the form of hydrogen and steam and 2) alumina trihydrate (ATH), a raw material used to manufacture aluminum.
The process unlocks two major benefits:
Onsite Energy Generation: Any equipment manufacturer, processor or even materials recovery facility can produce their own on-site, clean hydrogen fuel and steam using energy dense aluminum as a means of energy storage. On-site production helps alleviate the challenge of expensive hydrogen transportation and storage.
Upcycling: Aluminum alloys otherwise destined for downcycling may be reintroduced into the supply chain as alumina trihydrate that can then be processed into virgin-grade aluminum.
Why does aluminum recovery matter?
Aluminum is already one of the most abundantly recycled metals on the planet and can be recycled many times over. More than other classes of recyclables, there is broad consumer participation in aluminum recovery (by recycling cans), and the prevalence of aluminum as a lightweight structural element in manufactured goods (such as automobiles and appliances) means that ample end-of-life aluminum is processed every year. In fact, 75% of all aluminum ever produced is still in use today. Recycled aluminum only takes ~5% of the energy needed to make new aluminum and reduces the need to mine for bauxite––the most common ore needed for aluminum.
However, while recycling rates for aluminum are generally high, they differ substantially by product, alloy and region, ranging from as low as 20% to as high as 80% for some packaging products. We have learned that in the depths of smelters, aluminum recycling is limited to recovery within established alloy classes (meaning two or more metals or a metal with another non-metallic addition). Given that aluminum is 2x more energy dense than diesel and 5x more energy dense than methanol, there is value in finding opportunities to keep more aluminum in circulation as both a material and energy source.
The main challenge with recovering scrap aluminum is removing tramp elements, which cannot be separated easily by current smelting processes given the high melting temperature of aluminum (660° C). This means contaminated aluminum is often downcycled or ends up in landfills.
Found Energy has discovered a clean energy solution for scrap aluminum, working at the intersection of circular economy principles and the clean energy transition. After building this technology for years during his time at MIT and motivated by his work at NASA, co-founder and CEO Peter Godart brought Found Energy to life in 2022.
Unlike other energy solutions we have seen, Found Energy considered end-of-life from the very beginning of their development process, while using scrap aluminum as a wholly recoverable material source for energy generation plus storage. We fully support the transition to renewable feedstocks for clean energy, while recognizing that the structures required to facilitate clean energy transfers, like solar panels and wind turbines, often utilize extractive or single-use resources that frequently end up in landfill after they are decommissioned. We believe that it is better both economically and ecologically to keep these materials in circulation, and up until recently, had yet to find an energy technology that is inherently circular––inclusive of the materials used in the machinery and the renewable feedstock.
We were impressed with the elegance of a solution that uses a ubiquitous metal as a novel hydrogen source, is highly mobile, and can be distributed. Distributed assets will continue to be a priority in places where heavy materials would otherwise be transported long distances, or where permitting and absence of transmission infrastructure can keep manufacturing operations from scaling up their energy loads as needed.
To create a truly waste-free future for renewable energy, we must support the circularity of materials, alongside clean energy innovation. Reducing carbon through circular processes like material recovery and re-manufacturing is critical to reaching our CO2e mitigation goals and living in an ecosystem that is resilient to further climate shocks. Found Energy is helping pave the path forward.
About Closed Loop Partners
Closed Loop Partners is a leading investment firm advancing the circular economy. The company is comprised of three key business segments: its investment arm, Closed Loop Capital Management; its innovation center, the Center for the Circular Economy; and its operating group, Circular Services. Closed Loop Capital Management manages venture capital, buyout private equity and catalytic private credit investment strategies. The firm's venture capital group, the Closed Loop Ventures Group, has been investing early-stage capital into companies developing breakthrough solutions for the circular economy since 2016. The Closed Loop Ventures Group's portfolio includes companies developing leading innovations in material science, robotics, agritech, sustainable consumer products and advanced technologies that further the circular economy. Closed Loop Partners is based in New York City and is a registered B Corp. closedlooppartners.com.
About Found Energy
Found Energy is a Boston-based company building rechargeable aluminum fuel power systems aimed at eliminating carbon emissions from heavy industrial applications ranging from industrial heating (7% of global CO2 emissions) to maritime shipping (3% of global CO2 emissions). Building off technology developed at MIT that enables metallic aluminum to split water, our energy delivery systems safely generate hydrogen and/or industrial heat on-site at >5x the volumetric energy density of liquid hydrogen, >3x that of methanol and ammonia, and >25x that of Li-ion batteries. By integrating storage, transport, and generation into a single package, our technology solves some of the biggest pain points in renewable energy transmission and storage.
Reuse Series
Debunking Durability: How Durable Does Reusable Packaging Need to Be?
October 24, 2023
When reuse started regaining popularity in the United States, it was hard to imagine how any version of reuse could be worse for the environment than single-use equivalents. Today, there's growing awareness of potential unintended consequences of reuse if return rates, and associated packaging use cycles, are not high enough to justify the added durability (and material) that comes with reusable packaging.
With the newest wave of reuse policy discussions and renewed efforts to integrate reuse models into reduction requirements of Extended Producer Responsibility (EPR) bills, there is growing confusion on what defines a "good" reuse system. Although many metrics are cited, use cycles or return rates paint the most robust picture of how well a reuse system is operating in practice. As we build the reuse systems of tomorrow, a universal understanding of such metrics is essential. So, what is a high enough return rate?
The reality of today's reuse rates
Across different sources, the number of reuses required to offset the added durability and materials needed for reusable packaging (also known as the breakeven point) is said to range from about five to 800 uses. But in today's reality, reusable packaging is often reused less than five times, based on the results of past and ongoing open-system reuse pilots. For containers to have five uses on average in their lifetime, return rates need to be 80%. For a 90% return rate––which we have yet to see in open systems at scale––containers are used only 10 times on average*.
Achieving five to 10 uses is still a dream state for most open-environment reuse systems, yet we see packaging designers choosing and testing packaging materials to withstand dozens, and sometimes hundreds, of uses. Brands and manufacturers designing reusable containers are often reacting to regulations that set up unreasonably high use targets for open-system models. CalRecycle suggests washable as something that lasts 780 cycles. The Choose2Reuse drafted regulation cited a requirement of about 1,000 cycles. These types of requirements force the industry to design packaging for aspirational return rates, making breakeven points even higher.
Why designing for current state matters
To mitigate the environmental impact of reuse, reusable packaging needs to be designed for current return rates. Otherwise, you limit the environmental benefits by potentially generating a higher volume of materials, that are less likely to be recovered.
Additionally, durability will naturally be a function of usage environment; reusables must be appropriately designed for their expected use case. Items made for more closed environments, such as dine-in at a restaurant or for a drink at a venue, may have higher use cycles than open environments, such as takeaway or delivery.
The bottom line: as we transition toward more widespread reuse, we need to design with actual return rates and uses cases in mind. We must also ensure that containers that are not returned for reuse are recycled at their end-of-life (learn more about designing for end-of-life here).
While we work towards building the convenience and incentives needed to increase return rates, we must ask: what's the least amount of material that we can put in a returnable packaging solution today to make it durable enough to survive five to 10 uses? Will it look sufficiently like a durable reusable to signal returnability? And ultimately, how many cycles does a container need to survive to beat its single-use equivalent? For open reuse systems today, when the answer is less than five or so cycles, the packaging design is going in the right direction.
Reusable packaging is at an important inflection point. New innovations are expanding what is possible, but to ensure that reuse does not generate unintended environmental consequences, reusable packaging needs to be thoughtfully designed with today's reality in mind. Designing reusable packaging with current return rates, use cases and eventual end-of-life in mind are all critical steps to building a reuse system that truly advances a circular economy and a waste-free future.
Reuse Series
When Reusable Cups Reach End-of-Life: 5 Tips to Ensure They Don't Go to Waste
October 18, 2023
We know reuse plays a critical part in reducing foodservice packaging waste. And we've seen progress and innovation across all types of packaging and foodservice venues, whether cup share programs, reuse at concerts and events, or even for food delivery services. However, for reuse models to be successful and impactful, they need to check a lot of boxes––they have to fit the lifestyle of customers and align with the reality of retail operations to ensure reusable packaging is sufficiently reused. They also have to be recyclable so that they don't become waste when they end up somewhere other than the return bin at any point in their lifecycle. Whether a reuse program has a 95 percent (terrific!), 75 percent (needs improvement) or 25 percent (look out!) return rate, designing for recyclability is key, especially as more reusable packaging enters the ecosystem. Appropriate end-of-life management is necessary to maximize the intended environmental benefit that reusable products offer.
Since 2018, the NextGen Consortium has been leading efforts to identify the role reuse can play in addressing foodservice packaging waste, alongside material innovation and recovery [see: Bringing Reusable Packaging Systems to Life: Lessons Learned from Scaling Reusable Cups]. In addition to examining the realities of consumer behavior and retail operations when deploying reuse systems, one critical question we recently investigated is: what happens when a reusable cup ends up in the recycling system?
Reusable foodservice packaging is often designed for durability––both in how long it can be reused and how many times it can be washed––but not always for recyclability. As a result, when reusable cups are decommissioned, or end up anywhere but the reuse bin, they inevitably end up in our waste streams. From NextGen's consumer research, we know that unless disposal options are convenient, these cups will likely end up as waste. Designing reusable packaging for both consistent reuse and eventual recyclability will help increase recovery opportunities and reduce waste to landfill and the environment.
How do we ensure reusable cups do not become waste when they can no longer be reused or end up in a recycling bin rather than a reuse bin?
Testing is key. There are excellent design guidelines, such as APR's design for recyclability guidelines, to help suppliers ensure their packaging meets the stated needs of the recycling system today. But reusable cups also need to be tested within the recycling process to see if they can be successfully recovered. There are three critical stages of the recycling process:
Collection: how recyclable materials are collected in residential or commercial waste streams
Sortation: how a package will flow at a material recycling facility (MRF)
Reprocessing: how a package aligns with similar materials to be processed and remanufactured into new materials
In early 2023, the NextGen Consortium collaborated with Van Dyk Technology Center to test how a dozen different reusable polypropylene (PP) cups would sort within a MRF and see if they would end up in the correct material bale, in this case PP.
The test mimicked the flow of a typical MRF, followed APR's sorting guidance and tested how size, compression, 2D and 3D sortation, and near infrared (NIR) sortation impact how well a cup can be sorted. The results were mixed and provide critical design insights for the companies who are manufacturing and deploying reusable cup formats.
The Results: the good, the bad and the unrecyclable.
When designed with recycling in mind, a reusable PP cup should successfully sort into the correct bale at a MRF. In our tests, the top four best performing cup models were sorted correctly more than 90 percent of the time. The test ran 50 samples of each cup through four separate runs so that each cup model ran through the facility 200 times. The results are no coincidence: successful sortability was driven by specific factors, including color, shape, opacity, thickness and material composition. The highest performing cups were typically opaque, thin and rigid but had some flexibility or bounce, and were all read clearly by the optical sensors of the sortation equipment. Cups that performed poorly, sorting less than 50 percent of the time (or sometimes not at all), often were more translucent than their successful counterparts. Overall, while only four of the cups achieved successful sortation (and a fifth cup was borderline), simple design corrections can improve the fate of the others.
Design Tips: Making recyclability a priority for reusable PP cups.
The Van Dyk sortation test gave a window into what happens to various types of reusable PP cups traveling through a MRF. However, this only assessed one step in the recycling process––sortation––and does not confirm compatibility with reclamation systems nor prove that the cup can be recycled effectively into a new package. Additional testing is needed to confirm assumptions that reusable PP cups are truly circular. For now, reusable foodservice packaging companies and suppliers can design with sortation in mind and improve end-of-life outcomes by considering the following:
Follow the design guidelines created by APR and other groups: There are many resources available online to help packaging designers/suppliers ensure greater compatibility with the recycling system. For plastic packaging, the APR Design® Guide is a great place to start.
Avoid all black plastics: While there have been technological advancements to help sort black plastics, most MRFs do not possess that technology. Both opaque and translucent black packaging is problematic and reusable cup manufacturers should design cups with today's system in mind. If black is absolutely required, use an NIR sortable black colorant. Colorants that have passed APR testing can be found on APR's website here.
Not all polypropylene is equal: PP is a wide class of material. PP sorters in the recycling process are designed to detect and separate PP that is common to single-use plastic such as tubs and lids; however, other PP grades may not be as easily identified.It is critical to engage with your cup suppliers and test if needed to confirm compatibility.
Mono materials (cups made of just one material) are best: A reusable cup that is multi-material (i.e., part plastic, part fiber, part silicone, etc.) is simply not compatible with today's recycling system. Cups designed to be in a high-volume sharing system should be made of a singular material and avoid too many add-ons. Cups with ridges (i.e., a built-in sleeve) may also impede sortation; however, it does not appear that those design features are overly detrimental.
Think twice before adding tech: Tracking systems are typically needed to assess the impact of a reuse system and enable traceability, but features such as Radio Frequency Identification (RFID) tags need to be evaluated further for their impact on the recycling system. While an RFID tag is unlikely to hinder a package's sortability, it might impact whether a material can be reclaimed or recycled. APR's guidance lists RFID tags as "detrimental," and the NextGen team is investigating the impact this technology has on the system.
When in doubt, TEST.
Despite widely available design guidance, reusable packaging that is not compatible with today's recycling system continues to be manufactured. The conversation needs to be more nuanced and shift from only discussing designing for durability and the number of washes a package can withstand, to the realities of how the packaging will actually be used and travel through a system. Most reusable wares in an open system would be lucky to hit 40 reuses (which would assume a >95% return rate)! Sortation and recovery testing can help provide reusable foodservice packaging companies with additional peace of mind and ensure that their packaging has a better chance of staying out of landfill.
The NextGen team looks forward to continuing this journey to study and test optimal conditions for reusable packaging to succeed and achieve a positive environmental impact within a circular economy.
How a South Carolina paper mill started recycling your paper coffee cups: A spotlight on Sonoco and its recycling tests with the NextGen Consortium
September 26, 2023
In July 2022, Sonoco announced it would accept paper cups in bales of mixed paper at its paper mill in Hartsville, South Carolina. The NextGen Consortium supported cup trials with Sonoco. Below, we discuss with Scott Byrne, Director, Global Sustainability Services at Sonoco how the organization made this decision and what considerations companies might want to take when exploring the recyclability of different types of packaging.
This work represents part of a forthcoming report on paper cup recovery in the United States intended for release in late fall. 
Scott Byrne, Director, Global Sustainability Services at Sonoco
1. Who is Sonoco and what are you focused on?
Sonoco is a South Carolina-based global packaging company with more than 20 mills worldwide. Among our packaging products, we manufacture rigid paper cans, steel cans, thermoformed plastics and other packaging formats. Sonoco is uniquely positioned as a leading recycler, paper mill operator and paper packaging converter, in addition to other formats, to help push the industry to look towards future innovations and grow end-of-life solutions across the entire paper value chain.
2. How do you typically approach recycling of new products at your mills?
After validating that our mills could recycle rigid paper cans in residential mixed paper, we decided to further demonstrate the ability to recycle other similar polycoated fiber-based containers through the post-consumer mixed paper stream.
3. Where do you currently accept paper cups?
Hartsville, South Carolina. and we are exploring other Sonoco mills as well that use residential mixed paper.
4. What are some of the steps you took to determine that accepting cups wouldn't create new challenges for your mill?
With support from the NextGen Consortium, we conducted two main activities to assess how cups might behave. First, we conducted lab-based testing of both single- and double-sided poly-coated fiber cups. Second, and after we were confident that the cups would not pose any issues to our equipment, we ran a large-scale trial whereby we dosed in nearly 20 tons of cupstock and cups into our pulper alongside other mixed paper, increasing the volume relative to other materials to test the system and upper bounds of materials we'd anticipate receiving if we accepted cups. Based on those results we felt confident that cups could be included in our accepted materials list and we were thrilled to have the mill listed alongside others on Foodservice Packaging Institute's end market map of mills that accept cups.
5. What about your other paper mills?
Before we broadly accept cups at more of our mills, we'd want to distill our findings from the Hartsville location and consider any additional steps those mills would need to take to feel confident in accepting cups. This might include additional lab-and mill-based trials.
6. Any advice you'd give to other mills considering including cups?
Every mill is slightly different, from their equipment to operating conditions to inbound material mix. Testing to those conditions is a key proof point in determining what might work best in that location.
7. What's next for Sonoco in its efforts to improve polycoated paper recycling?
Sonoco is a founding member of the Polycoated Paper Alliance that kicked-off in March 2023, which aims to increase widespread end-market acceptance of polycoated paper packaging products. We are collaborating with like-minded member brands and industry leaders on developing improved and harmonized data, updated design guidelines, expanded end market acceptance and upgraded mill specifications, among other initiatives.  
Reuse Series
Making Reuse an Everyday Reality: 3 Things We Must Consider Before Scale 
September 06, 2023
Reuse is now at a critical stage of development. A plethora of innovation has expanded the realm of possibilities, but what will it take to get to the point of industry-scale disruption?
Earlier this year, seven winners of the highly anticipated 2023 Reusies were announced on stage at GreenBiz's Circularity23 Conference in Seattle. The winners encompassed corporate and community initiatives, and B2B and B2C reuse innovations across food & beverage, consumer packaged goods and fashion & apparel. Together, they provided a window into the best and brightest developments in the reuse space. Indeed, hundreds of start-ups and large corporates are working on making reuse an everyday reality for consumers, with applications as far-ranging as closed system solutions for corporate campuses and events, to software companies supporting reuse-as-a-service, and refill applications in retail or in commercial, industrial and event spaces. The potential for reuse to reduce waste has catalyzed much innovation and brought conversations to a fever pitch. 
Reuse is now at a critical stage of development. A plethora of innovation has expanded the realm of possibilities, but what will it take to get to the point of industry-scale disruption? Making reuse a far-reaching and everyday reality––where reusable items are consistently and efficiently reused to make a significant difference and reduce environmental impact––requires continued testing, collaboration across the value chain, investment and supportive policy.
At Closed Loop Partners, reuse systems are an integral part of our vision of a transition away from the take-make-waste economy and toward a circular economy. When products that have historically been single-use are able to be used two, five, ten or one hundred times, and the proper recovery infrastructure is in place for their eventual end-of-life, that can make a meaningful difference on reducing valuable materials sent to landfill––and on the embodied carbon, water and materials required to produce the item in the first place. 
But to get to this next horizon, a number of factors must be considered to ensure that reuse does not result in unintended consequences and instead serves a truly circular economy: 
1. Closed or semi-closed reuse systems are a key starting point, especially at early stages of adoption. On-premise reuse unlocks higher return rates which can make reuse systems profitable––or at least breakeven. In open systems, as consumers use and dispose products away from point of adoption, more complex collection networks and communication strategies are needed to drive returns. For this reason, closed systems can operate with lower upfront capital expenditures and lower recurring operating expenditures until the time at which consumer behavior has shifted to be more amenable to open systems (see #3!). 
2. Reuse is a hardware-first business, and requires capital and collaborations to build localized infrastructure––including collection, sorting and washing. There continues to be a shortage of washing infrastructure needed for reuse solutions, and traditional waste management players are not currently set up for the type of collection and sorting needed for reusable products that are intended to stay in circulation for more than one use. Many software-only solutions still require partnerships with washers and logistics providers. There is an opportunity for founders, corporates and municipal governments to build out these partnerships to enable reuse and share in the funding that will be required to build this new infrastructure.
 
3. Broad consumer adoption starts with meeting customers where they are today. There are still many customers that have yet to be onboarded into the reuse culture. As we've seen in our work through the Beyond the Bag Consortium and the NextGen Consortium, we need to design solutions with current behaviors in mind and support customers as they build new habits. Advancing reuse won't happen overnight; cross-industry and cross-company collaboration, a range of solutions, clear messaging and consistent regulatory frameworks are required to effectively support consumers in adopting reuse within their communities, as the industry addresses complex waste challenges. Importantly, in-market testing plays a key role in unlocking what works effectively in the market and meets customer needs. Today's market is complex, with diverse customer demographics and shopping habits, different operations across retailers, a range of reuse packaging materials and more that need to be considered.  
We see experimentation as a critical precedent to scale. Reuse is no simple feat, and testing market fit and operation alignment is an important step to expand reuse responsibly and mitigate unintended consequences that can happen without a measured examination of new systems. But isolated, small-scale experiments will not get us there. Closed Loop Partners runs multi-brand reuse tests through its Center for the Circular Economy to identify tactics that are proven and ready to scale, as well as models that require further tweaking and iteration to deliver the expected environmental and financial outcomes. While we work to scale proven solutions, we continue to de-risk systems that need refinement. Our in-field deployments intentionally mimic large-scale, cross-brand implementation, but in a controlled manner. The insights and data gleaned from these tests are key stepping stones to new rounds of implementation and scale. Most recently, the Beyond the Bag Consortium's largest multi-brand reusable bag pilots tested a range of reuse solutions to understand what it will take to effectively drive reduction of single-use plastic bags. Next year, the NextGen Consortium will go back into market to test the viability of reusable cup systems across multiple brands. These tests unlock important insights on what it will take to build a culture of reuse and will serve as the foundation for identifying scalable initiatives. 
With all these developments, we believe we'll get there. There are tremendous tailwinds supporting the development of reuse and a multitude of communities, innovators and corporations committed to seeing the shift through. To do so, the next five years are critical to pivot from bespoke solutions to shared frameworks, from ad hoc consumer engagement to a consistent drumbeat, and from in market tests to truly scaled solutions. We are excited to be working to advance the transition from innovation to scaled solutions that can replace single-use. Join us! 
This article represents perspectives from across Closed Loop Partners, including the Center for the Circular Economy and Closed Loop Capital Management. Special thanks to Kate Daly, Carol Lobel, Danielle Joseph, Aly Bryan and Anne-Marie Kaluz for sharing their thoughts for this piece. 
How Closed Loop Partners' Multi-Million Dollar Investment in LRS Is Expanding Recycling Infrastructure and Access in Chicago
August 16, 2023
This is Closed Loop Partners' third loan to LRS, which will support the Exchange, its newly constructed materials recovery facility, accelerating materials circularity in the third largest city in the U.S.
When Closed Loop Partners provided its first loan to LRS almost 10 years ago, the leading recycling company was already making waves to advance materials circularity in the Chicagoland area. Operating in the third largest city in the U.S., home to 2.7 million people, LRS has faced significant opportunity to recover valuable materials and expand recycling access at scale, and has been at the forefront of this work, strengthening the recycling infrastructure needed to advance the circular economy. Over the last several years, LRS made critical advancements in its growth, supported by catalytic capital from circular economy investment firm, Closed Loop Partners. Today, LRS, the largest recycling company in the Chicagoland area, has reached another pivotal moment of growth: a newly constructed materials recovery facility (MRF) in the heart of Chicago, the Exchange. Supporting the newly constructed MRF, and the innovative technology housed within it, is a multi-million dollar loan from Closed Loop Partners' Infrastructure Group.
The Closed Loop Partners team at LRS's ribbon cutting ceremony; photo credit: Closed Loop Partners
Pictured left to right: Jennifer Louie (CLP), Kate Krebs (CLP), Ray Hugel (CLP)
The state-of-the art MRF is now operational and expected to divert 224 million pounds of recycled material per year. It will house cutting-edge system components, including new artificial intelligence (AI)-powered equipment and other technologies to advance efficient materials sortation and recovery in the Chicagoland area. The loan is closing at a critical time, as infrastructure upgrades and innovative technologies are needed to handle an increasingly mixed stream of collected materials, including plastics & packaging, textiles and food scraps. AI and automation play an important role in improving material sortation and reducing contamination across different material streams, enabling the recovery of clean, high-quality materials. The AI-powered sortation technology to be integrated at the Exchange will enable LRS to sort polypropylene (PP) plastic for the first time in the Chicagoland area, including cold to go cups and yogurt containers. The new automated technology is also expected to mitigate labor risks at the facility, as well as add new jobs to manage the new equipment––increasing job quality and safety.
LRS Exchange Facility – LRS employees celebrate the grand opening of The Exchange materials recovery facility, which created 50 new full-time jobs in the city; photo credit: Sean Kennedy/LRS
This is Closed Loop Partners' third loan to LRS, building on a robust track record between the two entities. The investment firm's first and second loans to the recycling company contributed to the growth of their operations at a critical moment, helping enable them to win the collection rights of recyclable materials in three additional Chicago Blue Cart recycling zones. This new loan, provided by three catalytic funds within Closed Loop Partners' Infrastructure Group––the Closed Loop Infrastructure Fund, Closed Loop Circular Plastics Fund and Closed Loop Beverage Fund––helps expand LRS's capacity, as the Exchange will process recyclable material collected from all six of Chicago's Blue Cart zones, sorting material for approximately 430,000 households, encompassing over one million people. The Exchange's expanded capacity will also enable LRS to collect material from other areas surrounding the city, reducing landfilling and providing recycling access for more communities.
"This is a key moment of our expansion, as we extend our reach and impact across the Chicagoland area," says John Larsen, chief operating officer, LRS. "This loan to support our new facility helps us serve even more households in the area, and sort and process more valuable materials––including polypropylene, for the first time in the region. Closed Loop Partners has been a key part of LRS's meaningful growth over the years and we are proud to work with their team again in this work to recycle even more valuable materials and reduce waste."
Ribbon cutting ceremony for LRS' new $50 million materials recovery facility (MRF) in Chicago, IL; photo credit: Sean Kennedy/LRS
Pictured left to right: Emily Olsen-Torch (LRS), David Fass (Macquarie), Department of Streets and Sanitation Commissioner Cole Stallard, Rich Golf (LRS), Chief Operating Officer John Larsen (LRS), Cook County Commissioner John Daley, Executive Vice President John Silwicki (LRS)
Over the last nearly 10 years, Closed Loop Partners' Infrastructure Group––the investment firm's catalytic capital group––has played a key role in identifying and advancing novel technologies and infrastructure development to help private companies and municipalities keep more materials in circulation and out of landfills. Funded by many of the largest consumer goods, technology and material science companies, the catalytic strategy aims to accelerate further investment into materials circularity and drive net positive environmental and social outcomes. To date, the Closed Loop Infrastructure Group has helped keep approximately three million tons of material in circulation across 30 private loans and 15 municipal loans.
The loan to LRS is a milestone for Closed Loop Partners' catalytic capital funds participating in the financing:
Aligned with the Closed Loop Infrastructure Fund's goal to improve efficiencies in circular economy infrastructure, the loan to LRS will significantly expand processing capacity in the Chicagoland area;
Further aligned with the Closed Loop Circular Plastics Fund's goal to advance the recovery and recycling of plastics, the new equipment at the Exchange will capture and separate PP from the stream, with an expected rate of 650 tons of PP collected per year;
Finally, as the Closed Loop Beverage Fund, in partnership with the American Beverage Association, aims to improve the circularity of PET, a critical plastic to the beverage industry, the loan will help reduce LRS's residue rate in the Chicagoland area, which will enable an increase in other salable commodities annually, including PET for bottle-to-bottle applications. This investment is part of the beverage industry's Every Bottle Back initiatve, an integrated and comprehensive partnership between America's leading beverage companies––The Coca-Cola Company, Keurig Dr Pepper and PepsiCo––to reduce the industry's use of new plastic. The loan is expected to unlock at minimum an additional 150 tons of PET per year.
"One of our industry's highest priorities is to create a circular economy for our bottles and cans. We are taking action at every step to make sure they are remade as intended," said Kevin Keane, interim president and chief executive officer of American Beverage. "Chicago is a great and innovative American city. It is exciting to partner on a significant project that will serve to enhance its beauty, environment and quality of life. America's leading beverage companies are carefully designing our bottles to be 100% recyclable and investing in modern recycling systems to reduce our plastic footprint and keep plastic out of nature. We are excited to continue that work here in Chicago and thank everyone who made this investment a reality."
"As the circular economy grows across North America, companies that are vital to its development require access to financing to upgrade technology and expand capacity. Closed Loop Partners' Infrastructure Group is proud to support leading private and public organizations advancing material circularity through upgraded infrastructure and innovative technologies," says Jennifer Louie, Managing Director of the Closed Loop Infrastructure Group at Closed Loop Partners. "LRS has been a leader in developing the infrastructure needed to accelerate materials circularity in the Chicagoland region. We are thrilled to be working with their team to advance circularity in one of the largest cities in the U.S., keeping more materials in circulation and serving more communities."
As LRS enters its next phase of growth, Closed Loop Partners will work closely with the LRS team to integrate new technologies into the facility and bolster potential end markets for materials recycled by the facility, helping establish more robust circular systems in the region.
Learn more about Closed Loop Partners' catalytic capital strategy here.
The testimonials provided are from current clients and Limited Partners of Closed Loop Partners. No compensation was provided for the statements, and the statements do not present any material conflicts of interests. 
Molecular Recycling
What is chemical recycling, why does it have so many different names, and why does it matter?
August 15, 2023
Closed Loop Partners spent 18 months investigating the environmental impacts and financial viability of several types of molecular recycling technologies (sometimes also called advanced recycling or chemical recycling) to understand how and if these diverse technologies can fit into a circular future for plastics. Here's what we found.
Molecular recycling is a diverse sector that can be categorized into three distinct technology categories: purification, depolymerization and conversion.
Figure 1: Molecular Recycling Technology Categories and Their Outputs
Molecular recycling is a broad umbrella term – also referred to as chemical recycling or advanced recycling – that encompasses dozens of technologies that use solvents, heat, enzymes, and even sound waves to purify or break down a wide range of plastic feedstocks to create polymers, monomers, oligomers or hydrocarbon products so that they can re-enter manufacturing supply chains, instead of going to landfill.
In other words, molecular recycling technologies can break down plastic waste into its constituent building blocks, which can then be used to create new plastic products. These technologies are only circular when their supply chains produce a final product. Converting plastics to fuel is not recycling or circular. Molecular recycling is a group of technologies that can complement mechanical recycling and help widen the aperture of plastic waste that we can recycle today.
Molecular recycling is only one part of a suite of solutions to address plastic waste; both upstream and downstream solutions are needed, including design and reuse, as well as mechanical and molecular recycling, and policy.
Figure 2. The suite of solutions needed to reduce plastic waste
Molecular recycling is part of a suite of solutions needed for a circular plastics economy. It is not a silver bullet but plays an important role in creating a waste-free future for our hardest-to-recycle plastics which include the 41 million metric tons of textiles and approximately 2,000 wind turbine blades expected to go to landfill in the U.S. every year.
Expanding the scope of plastics that we recycle is important given the diversity of plastics in our economy. We will not achieve a waste-free future unless we scale solutions that address all plastics.
Figure 3. Common Plastics Without Commercial Recovery Solutions, Typically Sent to Landfill every year
The "plastics waste crisis" has been defined in the public and policy discourse as created by single-use plastics. Yet, two-thirds of plastics put into use in the U.S. today are used for purposes other than single-use packaging.  These types of plastics are equally visible and challenging to recover and reuse.
Molecular recycling can expand the scope of plastic waste we can recycle, helping to preserve the value of resources in our economy.
Figure 4: Inputs and outputs for mechanical, purification, depolymerization and conversion technologies from input to output.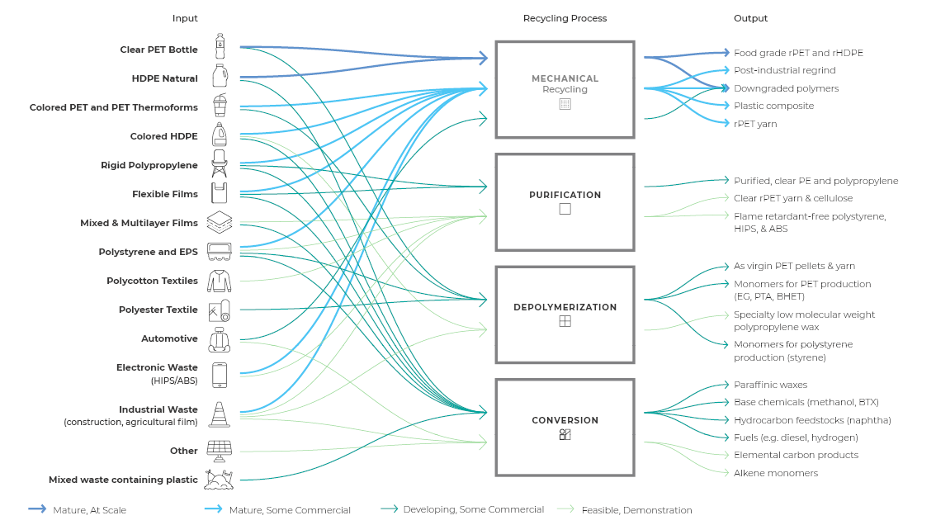 Plastic is as ubiquitous as it is diverse. Our current mechanical recycling system is designed to address only a small fraction of plastics in the market – namely, plastic water bottles (PET), milk jugs (HDPE), and in some markets, yogurt cups (rigid polypropylene). Plastic packaging, like plastic film (LDPE) and clear boxy packaging that many salad mixes are sold in (PET thermoforms) are sometimes downcycled into plastic lumber. Textiles and durable plastics are recycled in lower quantities or not at all because there is less consistent demand for these recycled plastics. As a consequence, most plastic waste ends up in landfill.
Molecular recycling technologies can widen the aperture of plastic waste that we can recycle today beyond packaging. Purification technologies can process electronic waste and films. Depolymerization technologies, which largely focus on PET and polyesters, are a critical recycling solution for synthetic textiles including carpets and athletic clothing.  Conversion technologies like gasification can even take mixed waste, breaking down feedstock to basic carbon and hydrogen atoms.
Conversion technologies like pyrolysis and gasification can process the highest volume of plastic packaging and can accept mixed plastic packaging feedstock.
Closed Loop Partners evaluated nine different technology processes across the three technology categories. When evaluating the total packaging volumes across the United States and Canada, we found that the conversion technologies could accept 82% of all plastic packaging produced, which is more than mechanical, purification, or depolymerization technologies could address alone. These types of technologies also can process mixed plastic waste, while purification and depolymerization requires a sorted and single-resin feedstock. Because feedstock can be mixed, conversion technology companies are often paid to take feedstock rather than paying for feedstock.
Figure 5. Percent of US and Canadian Plastic Packaging that Closed Loop Partner's Cohort of Molecular recycling Technologies could Address
When considering downstream solutions, a critical metric of success is the amount of recycled plastic (PCR) that each technology solution can produce. The less a polymer is broken down through molecular recycling process, the more recycled plastic will be produced.
Each molecular recycling technology category has a distinct supply chain. For example, purification technologies produce finished recycled plastic. Depolymerization technologies produce monomers which would be sent downstream to be easily repolymerized back into plastic. Conversion technologies have the longest route back to becoming plastic. A pyrolysis technology company will produce pyrolysis oil which would be sent and processed by a steam cracker to produce monomers, which are then sent downstream to make plastic again.
Closed Loop Partners calculated how much plastic resin would be produced by each of the three main molecular recycling technologies discussed in this series (e.g., purification, depolymerization and conversion) if we were to put 1,000 kilograms of plastic feedstock into the technology reactor. Purification yielded the highest amount at 88% of material processing efficiency. Conversion technologies yielded the lowest amount of recycled plastic with a 42% processing efficiency. The capacity to move away from virgin plastics requires the recycling sector to be as efficient as possible.
Figure 6: Average mass yield when 1,000kg of plastic waste is put into each technology process
From an environmental perspective, purification and depolymerization technologies have a smaller environmental footprint, on average, compared to conversion technologies.
Closed Loop Partners also analyzed the energy, greenhouse gases and water impacts of individual technology processes, and the systems-level impact of producing different polymers via purification, depolymerization and conversion technologies. On average, purification was the best performing category across all environmental measures, yielding 20% reduction in greenhouse gas emissions compared to the virgin plastics supply chain. Depolymerization had an average greenhouse gas reduction of 12%, while conversion technologies reduced carbon emissions by 7%, on average. Decarbonizing the plastics supply chain requires prioritizing the solutions that help to meaningfully improve the status quo.
Figure 7: Summary of environmental impacts to produce recycled plastic by technology category
The less a polymer is broken down through molecular recycling process, the fewer virgin petrochemical inputs are needed to make plastic again – which can reduce the human health impacts of plastic production compared to virgin plastic production.
Several chemical inputs are used to produce plastic. We've pictured the chemical tree to make PET which is the plastic used in water bottles. Because plastic can be recycled by many types of molecular recycle technologies, our team wanted to understand the potential human health impacts of different technologies. While qualitative in nature, our findings strongly suggest that the less a polymer is broken down through a molecular recycling process, the lower the human health risk because fewer chemicals and processing are
required to build back the polymer. In the illustration below, depolymerization technologies have an advantage over conversion technologies that can also process PET because depolymerization displaces more of the virgin supply chain to create an equivalent amount of plastic.
Figure 8: Summary of environmental impacts to produce recycled plastic by technology category
The economic viability of molecular recycling technologies varies depending on several factors, such as the cost and accessibility of feedstocks and the market demand for the recycled products.
Analyses conducted by Closed Loop Partners over the course of 18 months across nine technology companies found that at least one technology company was financially viable in each category. Specifically, seven of the nine technology companies evaluated had a positive internal rate of return (IRR) ranging from 6% to 62% in the 2021 base case. It is also noteworthy that two-thirds of the technology companies in our study had positive IRRs, given that our base case assumes that these technologies are expected to sell their outputs at market commodity prices without a premium. Figure 5 above summarizes the expected rate of return across three scenarios: 2021 market pricing, 2019 market pricing, and the expected output pricing cited by the technology companies themselves.
Figure 5: Expected Internal Rate of Return (%) Ranges for Each of the Three Molecular Recycling Technologies
There are tradeoffs to each molecular recycling technology category and type. The viability of one solution depends on those metrics that matter most to a brand, investor, or community.
The molecular recycling sector is incredibly nuanced and diverse. Not all technology groups are at the same level of development. Their tolerance for mixed plastics or other contamination varies company to company, just like their performance across environmental impact metrics like energy, water and greenhouse gas emissions. Due diligence prior to investing in strong performing technologies is critical. Closed Loop Partners has summarized the results when observing the category averages between purification, depolymerization, and conversion in the table below. This summary is based on our review of nine technology companies between 2020-2021 and should only serve as a point of data, not a definitive source on the state of the sector at large. The opportunity for consumer brands, policymakers, and investors is to collaborate to develop a vision of success for this sector.
To read our full report on molecular recycling technologies, including a list of more than 100 questions that investors and brands should ask when considering investing in this sector, visit Closed Loop Partner's website.
Reuse Series
The Most Sustainable Bag Is Likely the One You Already Own: 5 Things YOU Can Do to Reduce the Need for Single-Use Plastic Bags
July 19, 2023
How often do you get to the checkout counter only to realize you've left your reusable bags at home or in the car? It's happened to all of us, including me.
Don't be that person stashing plastic bags until your drawer begins to overflow. In addition to going bagless for quick shopping trips, here are 5 tips for remembering to bring your own bag, so YOU can reduce the need for single-use-plastic bags:
Make it visible. Write "bring bags" at the top of your grocery list and leave bags in a basket near your front door or hanging on the doorknob, so you don't forget them as you are leaving the house.
Make it available. Always keep a few bags in your car for spontaneous shopping trips.
Make it essential. Place an important item in the bag, like your phone, keys or wallet, so you won't forget it.
4. Make it personal. Purchase reusable bags you actually like, so you'll be more inclined to carry them with you.
Why is this so important? Every year, 100 billion single-use plastic bags are used annually in the U.S., and its estimated fewer than 10% of them are recycled.
While the convenience of the single-use plastic retail bag can't be disputed, the negative impact — considering its short use (12 minutes, on average) and long estimated lifespan — has created an untenable situation that is contributing to a mounting global waste crisis. Plastics can now be found in the deepest depth of the ocean, the top of Mount Everest, and on both polar ice caps.
Reducing the number of single-use plastic bags retailers use across their stores can make a tremendous difference. Even a 1% bag reduction would have a substantial impact on our global waste footprint – equivalent to 1 billion fewer bags used and discarded across the U.S.
If you're already regularly using reusable bags, you are not alone! Learn more about our pilots in Denver and Tucson where 150+ retailers are working together to help all of us reinforce the habit of bringing our bags. Additionally, check out our new playbook full of solutions retailers can implement today to get teams and customers on board with reducing single-use plastic bags and encourage shoppers to reuse their own bags.
While there's a lot retailers can do; remember, we're all in this together and YOU can make a difference by reducing the need for single-use plastic bags.
Designing for Disassembly: How Molg Is Supporting the Circular Economy for Critical Minerals Through Electronics Recovery
May 31, 2023
This blog is part of our "Why We Invested" series, which offers a deep dive into our most recent investments and the growing circularity trends in the space. 
Over the past few months, the dialogue around sourcing critical minerals for the clean energy transition has reached a fever pitch. In March, we highlighted the three pain points to critical mineral recovery that have been largely absent from discussions: (1) valuable streams of recoverable domestic materials are currently overlooked; (2) existing processing techniques are leaving value on the table; and (3) geographic silos are disadvantaging both suppliers of recovered materials and manufacturers. Today, we're excited to share how one of the newest portfolio companies of Closed Loop Partners' Ventures Group, Molg Inc., is moving the needle on critical mineral recovery through advancing design-for-disassembly and deconstruction.
Molg uses robotics and design software to ensure one product's end is another's new beginning––enabling a circular manufacturing process. Led by Co-Founders Rob Lawson-Shanks and Mark Lyons, Molg provides a full suite of solutions to improve the disassembly of existing electronic products––from servers to laptops to handheld electronics. We invested in Molg because circularity is at the core of why and how this team operates. They think outside the box of traditional, linear systems, understanding that just because products have always been designed one way, doesn't mean that process should continue. They are also committed to recapturing as much material as possible––including those previously designed in non-recoverable ways––recognizing that even products lacking optimized designs can be recovered profitably at scale. That's a circular economy.
Molg is targeting a historically overlooked source of critical materials in the U.S.: end-of-life electronics. Much of the unused critical materials needed for advancing the clean energy transition are not domestically available at scale in the U.S. and may be sourced from regions challenged with human rights breaches, water scarcity or geopolitics. However, much of the minerals needed already exist in our end-of-life electronics in the U.S.––both in commercial and individual use cases. Molg is committed to capturing and recovering the materials from these sources and, through direct CAD integrations, has a pathway to do so for a diverse variety of products.
Molg's robotic disassembly processes maximize the value from recovered materials. Traditional recovery processes prioritize shredding materials and then using chemicals to deconstruct those materials down to monomers, capturing only those worth the highest value, and losing value in the process. By starting with disassembly, Molg can close a tighter loop––keeping still usable materials in their original form factor––and accelerating reuse while ensuring feedstock that can be recycled.
Molg's micro-factory approach allows for localized recovery where the materials are most needed––minimizing transport costs that may otherwise challenge recovery economics. End-of-life electronics are heavy and transporting them costs money. By advancing pathways to disassemble electronics on-site through their micro-factories, Molg allows processors to get to single source feedstocks sooner, removing the need for sortation and processing that may have required transport before recycling could take place.
What the Molg team is building is just one part of the broader recovery ecosystem. The involvement of the entire value chain is needed––from aggregators, sorting and recertification infrastructure, metal processors and manufacturers who are prepared to use recycled feedstocks in their processes. This also includes designers prepared to take on the challenge of designing for disassembly, and regulators who view these waste products as a primary source of materials and worthy of being prioritized. There is a promising opportunity ahead for critical minerals, and at Closed Loop Partners, we'll continue to invest in companies that strive to push circularity for these materials forward.
Interested in learning more about Molg? Tune in to Circularity23 where the team will be pitching for Accelerate for Circularity!
About Closed Loop Partners
Closed Loop Partners is at the forefront of building the circular economy. The company is comprised of three key business segments. Closed Loop Capital Management manages venture capital, growth equity, buyout and catalytic private credit investment strategies on behalf of global corporations, financial institutions and family offices. The Center for the Circular Economy unites competitors and partners to tackle complex material challenges and implement systemic change to advance circularity. Circular Services employs innovative technology within reuse, recycling, remanufacturing and re-commerce solutions to improve regional economic and environmental outcomes, and build resilient systems that keep food & organics, textiles, electronics, packaging and more, in circulation and out of landfill or the natural environment. Closed Loop Partners is based in New York City and is a registered B Corp. For more information, please visit www.closedlooppartners.com.
About Closed Loop Ventures Group
Closed Loop Partners' venture capital arm launched in 2017 with one of the first venture funds dedicated solely to investing in early-stage companies developing breakthrough solutions for the circular economy. The Closed Loop Ventures Group targets leading innovations in material science, robotics, agritech, sustainable consumer products and advanced technologies that further the circular economy.
The Closed Loop Venture Fund II builds on the venture capital group's first fund's strategy, supported by an existing portfolio with strong financial performance, coupled with robust environmental and social impact. HomeBiogas, one of the early investments of the Closed Loop Venture Fund I is a leader in developing biogas systems that transform organic waste into clean energy and bio-fertilizer. They announced their $94 million initial public offering (IPO) in Israel in 2021, accelerating the company's growth into additional markets, including North America. To date, the company has sold over 10,000 systems in more than 100 countries. Algramo, another investment of Fund I, developed a reuse system powered by vending machines that dispense household products into smart reusable packaging. With the investment and support of Closed Loop Partners, the Chile-based company expanded into North America, now piloting their reuse systems in New York City, while also having piloted with leading brands such as Walmart and Unilever in other geographies.
About Molg Inc.
Molg tackles the growing e-waste problem by making manufacturing circular. The company's robotic microfactory can autonomously disassemble and reassemble complex electronic products like laptop PCs, servers, and handheld electronics, helping keep more valuable materials within supply chains. Molg partners with leading electronics manufacturers to design the next generation of products with reuse in mind, ensuring that one product's end is another's beginning. To learn more, visit molg.ai.